There are two camps in what is known as the "anti-jihad" campaign. The first being the Fantasy $ellers. A group that features so called experts such as Daniel Pipes of the Middle East Forum (MEF), Pamela Geller of the Geller Report, and Robert Spencer of Jihad Watch. All three have actually come out against banning Islam. Which implies that we can peacefully coexist with the ideology of war and perversion. All three support the Abraham Accords. Which implies that millions of Muslims can be trusted.
Then there is the second camp which is called the Truth Tellers. Which is a group lead by me and my Logan's Warning teammates. A group that understands the Muslim mindset and doesn't play fantasy Islam. Which leads us to today's Logan's Warning of the day.
Despite this popular meme that was circulating online a year or two ago there is a harsh reality about Islam in Japan.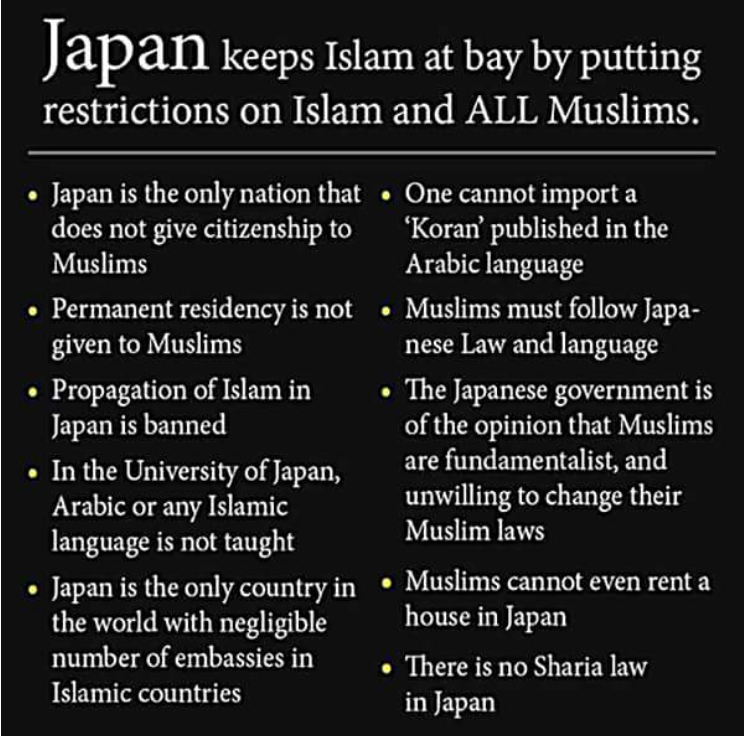 As you can see there is no source and I am not going to both going over it point to point. Because the harsh reality is that like any other country that respects Islam as a religion, Islam is expanding in Japan.
The number of Muslims in Japan is growing fast
SNIP
The ranks of worshippers have grown in recent years, as the government has sought to attract more foreign workers and students. The number of Muslims living in Japan, though small, has more than doubled in the past decade, from 110,000 in 2010 to 230,000 at the end of 2019 (including as many as 50,000 Japanese converts), according to Tanada Hirofumi of Waseda University. The country boasts more than 110 mosques. That is a welcome change, notes Muhammad Tahir Abbas Khan, a professor at apu and the head of the Beppu Muslim Association (bma). In 2001, when he first arrived from Pakistan as a graduate student, there were only 24 mosques in the country and not a single one on Kyushu.