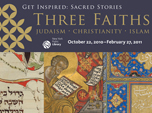 Last night I decided to forget about the rain, and headed over to the NY Public Library to check out the "Three Faiths" exhibit. I went there to see how much misinformation they were putting out to the public. The idea behind the exhibit was to show the commonalities between Christianity, Islam, and Judaism. The problem is that Islam is at war with us, and the differences in the religions are what needs to be known. Covering for Islam is not only irresponsible, it is detrimental to the country. When I walked in this is what I first saw. (Unfortunately they would not allow any pictures to be taken.)
Monotheism

Jews, Christians, and Muslims share a belief in the same one true God, whom they call by different names. An innovation of the patriarch Abraham, this radical new belief in a single Divine Being flew in the face of the religions of antiquity with their plethora of gods, each imbued with a particular attribute, purpose, and power.
That information is just not accurate. What Muslims consider to be their God, cannot be the same God of Christians and Jews. In fact this information does not even make sense.
The Koran states that Muslims should not befriend Jews and Christians.
Koran verse 005.051
YUSUFALI: O ye who believe! take not the Jews and the Christians for your friends and protectors: They are but friends and protectors to each other. And he amongst you that turns to them (for friendship) is of them. Verily Allah guideth not a people unjust.
The Koran also states that Muslims are to fight, extort, and dominate Christians and Jews.
Koran verse 009.029
YUSUFALI: Fight those who believe not in Allah nor the Last Day, nor hold that forbidden which hath been forbidden by Allah and His Messenger, nor acknowledge the religion of Truth, (even if they are) of the People of the Book, until they pay the Jizya with willing submission, and feel themselves subdued.
The Koran even calls for Allah's curse to be on Christians and Jews.
Koran Verse 009.030
YUSUFALI: The Jews call 'Uzair a son of Allah, and the Christians call Christ the son of Allah. That is a saying from their mouth; (in this) they but imitate what the unbelievers of old used to say. Allah's curse be on them: how they are deluded away from the Truth!
If what the library was saying were true, it would be that the God who started Judaism and Christianity, now wants his/her followers disliked, fought, dominated, extorted, and cursed. Like I said, it does not even make sense. They say this because it is easier for them to live in a world of make believe, than face the threat of Islam.
The rest of the exhibit was basically made up of old Bibles, Korans and pictures. While I was there, I did not see anybody that I could talk to about this misinformation. I only saw the security guards, so I left. When I got home I wanted to see who was behind this the project, so I went to the website of the NYPL. One of the guest curators is Father Patrick J. Ryan S.J., who is a professor at Fordham University. In the short video below you will see the respect he gives to Mohammad, and the Koran. This is the equivalent of a Jew respecting Mein Kampf.
The video is not surprising though, because the Father is a strong believer in interfaith dialogue. What the Father fails to understand is that this is not a negotiation, this is a war. His conversations with Muslims will not stop, or even slow down the Sharia movement in America.
At the end of the video we can see that the "Coexist Foundation", is also in on this project.
From their about page.
About Us

Since 2006, Coexist has been working to promote better understanding between Jews, Christians and Muslims, and between these communities and others, through education, dialogue and research.

Coexist is an operational foundation which not only funds projects, but also forges and facilitates new partnerships and programmes, which help people to understand better what it means to be Jewish, Christian or Muslim today.

We do this by bringing together an influential network – including government, business, charities, academics and faith leaders – working towards the same objectives as ourselves.

We hope this website will give some flavour of how Coexist is working today, and how you might be able to help us in our mission.
Many readers of this site know how I feel about interfaith dialogue. It is only good for two things. The first is to expose the lies that Muslims tell. The second being, you will probably get to see a Muslim's true colors if you have the courage to ask them if they will condemn Sharia Law. Other than that, Muslims will continue with their Islam will dominate the world movement.
We only have to look at the board of trustees, to see this organization is failure. We also see that the non-Muslims on the board, are not dealing in reality.
The Trustees of the Coexist Foundation are:

The Rt Revd and Rt Hon Richard Chartres has been the Bishop of London and Dean of Her Majesty's Chapels Royal since 1996. He was educated at Cambridge, and taught history at the International School in Seville before being ordained as a Church of England minister in 1973. He served as Chaplain to Robert Runcie, Archbishop of Canterbury, and as Rector of St Stephen's Rochester Row, before becoming Bishop of Stepney in 1992. He is responsible on behalf of the Archbishop of Canterbury for relations with the Orthodox Churches; and is Chairman of the Trustees, and founder, of the St Ethelburga's Centre for Reconciliation and Peace.

Christopher Griffiths studied at the University of Wales and the College of Law before joining the Thomas Tilling Group in London as a solicitor. He was later appointed as attorney in the London offices of Chrysler International. In 1980 he joined the Jameel Group as Legal Counsel and Group Secretary, and later moved to Oxford as Company Secretary of the Hartwell Group.

Greville Janner, Lord Janner of Braunstone QC has been a member of the United Kingdom's Parliament since 1970, first as MP for Leicester North West, and, since 1997, as a Member of the House of Lords. Educated at Cambridge and Harvard Law School, he has written more than sixty books, many on employment law and on presentational skills and public speaking. He was President of the Board of Deputies of British Jews from 1978-1984; President of the Commonwealth Jewish Council; vice-President of the World Jewish Congress; Chairman of the Holocaust Education Trust; and joint-Founder, with HRH Prince Hassan bin Talal, of the Political Council for Coexistence.

Edward McCabe is Director of Seven Spires Investments ltd, a high-tech investment fund. He studied at Oxford and the Henley Management School, before joining Barclays Bank. From 1992-2005 he was Chief Executive and then Chairman of Hartwell plc, one of the UK's biggest car-dealerships.

Rabbi Dr David Rosen is the former Chief Rabbi of Ireland, and was for many years Rabbi of the largest congregation in South Africa. He is the Honorary Adviser on Interreligious Affairs of the Chief Rabbinate of Israel and for the last four years he has led the International Jewish Committee on Interreligious Consultations, a broad-based coalition of Jewish organizations representing world Jewry to other religious bodies. Director of the American Jewish Committee's Department for Interreligious Affairs and the Heilbrunn Institute for International Interreligious Understanding, Rabbi Rosen serves on several international interreligious organisations. Among various awards and honours, Rabbi Rosen is the first Israeli and the first Orthodox rabbi to receive a papal Knighthood, conferred on him for his contribution to Jewish-Catholic reconciliation.

Timothy Ryan is Chairman of Bell Pottinger International. Educated in Australia, he served with the Australian Army and with the United Nations in the Middle East. He co-founded Chelworth, an aerospace and defence consultancy, and later joined SkyPharma, the UK-based Pharmaceuticals company, as Director of Communications. He performed a similar role at NTL, the Cable Media and Telecoms company, before moving to Bell Pottinger in 2003.
What do all of them have in common? The United Kingdom is what they have in common. Does anyone need a reminder, of how bad things are there with Islam? The only interfaith dialogue that needs to take place now, is dialogue between all non-Islamic religions. The meetings should be about all other religions uniting against Islam.
Now we will take a look at the Muslim members of the board. When you read who the first one is, you will just shake your head.
H.E. Sheikh Ali Goma'a, The Grand Mufti of Egypt has been the Grand Mufti of Egypt since 2003, in which role he is particularly concerned with changing the fatwa system. He studied at al-Azhar University where he went on to become a Professor. While there Sheikh Ali was renowned for challenging the extremist views of some of his pupils. He has written over thirty books and is a prolific speaker on Islamic issues.
Before I go any further, I just want to remind the readers that what I post about Sharia Law from The Reliance of the Traveller, is approved ay Al-Azhar.
The Mufti is obviously an expert on Sharia law, and calls himself a "moderate". Like I have said, "extremist Muslims want to kill us, "moderates" just want to dominate us. He does not hide his pro-Sharia agenda, and he is also against freedom of speech.
CAIRO—"Maybe we just need to buy CNN," says Sheik Ali Gomaa, more than a hint of exasperation creeping into his voice. After taking more than an hour to explain to yet another western journalist why a traditional conception of sharia law—along with knowledge of Islamic jurisprudence—is the best antidote to Islamic extremism, the grand mufti of Egypt is not able to disguise his frustration. Why, he wonders, does the West still not recognize who the moderate Muslims are, much less heed what they are trying to say? Shrugging his shoulders, he answers his own question: "The western media has paid no attention."
Sorry Mufti, since you are pro-Sharia you are an enemy of non-Muslims. Of course his website is full of deception.
Something to be aware of is that Islam is capable of thriving in every age and of building bridges with all civilizations. This is affirmed by history and all Islamic sources.
Is that so Mufti? When you speak of building bridges, do you mean how the Coptics in Egypt have been persecuted for centuries? How Muslims took their land in the 7Th century? Do I have to remind the so called "moderate" Mufti of a recent statement from Al-Azhar?
Members of al-Azhar's Islamic Research Council held an emergency meeting led by the institution's head, Grand Imam Sheikh Ahmed al-Tayeb, repudiating Bishop Bishoy's comments and accusing him of provoking sectarian tension.

A "Statement to the Nation" was released by the Council on Saturday, September 25 in which al-Tayeb said "This kind of behavior is irresponsible and threatens national unity at a time when it is vital to protect it." He also warned against repercussions these sorts of statements can have among Muslims in Egypt and abroad.

The Statement went on to say the Council stresses the fact that Egypt is an "Islamic State" according to the text of its Constitution, which represents the social contract between its people. "From this stems the rights of citizenship, as taught to us by the Messenger of Allah in his pact with the Christians of Najran, in which he decided that they were to enjoy rights and duties as the Muslims. However, these rights are conditional to respect for the Islamic Identity and the citizenship rights as set by the Constitution."

The Christians of Najran, Medina, refused conversion to Islam in 631 A.D. and offered Mohamad to maintain their faith, accept the dominance of Muslims and pay an annual tribute (the jizya), he accepted and the pact was sealed between them.
(Remember Koran verse 9:29, which I posted above.) What he calls building bridges, is nothing more than Islamic dominance. No thanks.
On his website he gives us another reminder that he is against free speech.
In order to work towards peace in the region, and in the entire world, we must put an end to the slander against Islam and Muslims, which has portrayed Muslims as the greatest enemy of Western civilization, which is not true at all.
Ali, what you hear and see now is just the beginning of the anti-Islam movement. The West is finally waking up, your words will fall upon deaf ears.
Does anyone reading think the Mufti is a "moderate"?
Unfortunately the non-Muslims of Coexist do. There are two more Muslims on the board:
Mohammed Abdul Latif Jameel is President of the Abdul Latif Jameel Co Ltd. He studied at Japan's Sophia University, and at the Massachusetts Institute of Technology. ALJ's Community Service Programmes; the Jameel Poverty Action Lab and the Mohammed Yunus Challenge at MIT; and the Grameen-Jameel micro-credit partnership are some examples of ways in which Mohammed Jameel is working to tackle global challenges. He is also a Trustee of the Prince's School of Traditional Arts, and a member of the World Business Council for Sustainable Development.
In the past Mohammed has been honored by the King Abdullah of Saudi Arabia.
JEDDAH, 5 March 2008 — Mohammed Abdul Latif Jameel, president of Abdul Latif Jameel Co. (ALJ) and Abdul Latif Jameel Community Services Programs, will be honored at the opening ceremony of the annual Culture and Heritage Festival at Janadriya by Custodian of the Two Holy Mosques King Abdullah today.
He is also invovled in Sharia banking, which can be seen in this Islamic Microfinance Report.
The last board member is:
Professor Muhammad Yunus is the founder and Managing Director of Grameen Bank, which currently operates nearly two and a half thousand branches providing credit for more than seven million poor people across almost eighty thousand villages in Bangladesh. His Grameen banking concept – banking without collateral for the poorest of the poor – has won him a host of international prizes, including the Nobel Peace Prize in 2006. Professor Yunus studied economics at Vanderbilt University in the USA, and taught, first at Middle Tennessee University, and then at Chittagong University. He started the Grameen project in 1976, and the Grameen Bank was formally registered in 1983. Its principle – helping the rural poor into self-employment through small loans – has since been taken up across the world. Alongside Grameen Bank, Professor Yunus has established a series of companies in Bangladesh to address related issues of development and poverty. These include Grameen Phone, Grameen Cybernet, Grameen Communications, Grameen Fund, Grameen Renewable Energy and many others.
Him and Mohammed Abdul Latif Jameel do business together. The bank is currently under investigation.
Norway says it is examining reports that Nobel Peace Laureate Muhammad Yunus allegedly diverted millions of dollars of aid money from a bank.

International Development Minister Erik Solheim said that it was "totally unacceptable that aid is used for other purposes than intended".
The Professor is fighting poverty in Bangladesh, I will give him that. But in my searches tonight I do not see him or Mohammed Abdul Latif Jameel, condemning Sharia Law. If they were against it, I doubt they would sit on a board with the Grand Mufti of Egypt.
I like the Brits, I really do. But I don't appreicate the ones on this board spreading their land of make believe fantasy here. One only needs to look at the UK, to see dialogue with Muslims does not work. Please keep your false hope to yourselves. The exhibit will be open until February 27Th, so I plan on going back to see if I can speak to one of the curators. If I can, I will let you guys know what happened.