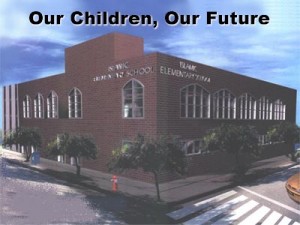 Searching the Internet to further expose the internal threat of Islam, I found another Islamic school which is not happy with Muslims living in the "un-Islamic environment" of America. Other Mosques/schools that have echoed that call are in Philadelphia, and Houston. Ones in Buffalo and NJ have stated they have created their own Islamic environments. Like I have said, Muslims are not in non-Islamic countries to assimilate, they are in them to dominate.
Tonight we take a look at Al-Ihsan Academy, which is located at 130-08 Rockaway Blvd South Ozone Park NY.
Founded in 1989 by immigrant Muslims who were concerned about the fate of their children in an un-Islamic environment, Al-Ihsan Academy is a non profit educational institution established to educate Muslim children in a safe and nurturing environment where their potential can be fully developed.
Just from that statement alone, we see they should have never been allowed to come here in the first place.
I'm pretty sure that dress code is not about assimilating either.
The mission of the school clearly states their goal of changing America from within.
The goal of the school is to produce graduates who would be solidly grounded in Islam as their practical way of life in America, while pursuing studies, which will eventually help them, become qualified to compete in all levels of activities.
As with Brooklyn's Al Noor Islamic school, the school is packed.
.student body of 400+, coming to us from various locations throughout NYC and representing many parts of the globe

.waiting List – There is a waiting list for most grades. Space has always been a problem at Al-Ihsan. Parents are encouraged to register their children early. Many parents have been registering their children as soon as they are one year old, even earlier in some cases
The school's dress code is very strict, and even the parents who are "sisters" have to wear a hijab to enter the building.
students are required to wear the school uniform at all times

Boys – White dress shirt, white under t-shirt or vest, dark green dress pants, plain black or white socks and black dress shoes

Girls – White shirt, forest green Jumper, white khimar and black dress shoes (Pre-K through Grades 4)

Girls from Grade 5 – through Grades 12 will wear forest green Jilbab, matching green pants, white khimar, plain black or white socks and black dress shoes. (Heels should not be more than 1 1/2″ long)

if student choose to wear a sweater – it must be a GREEN uniform school sweater

no jewelry should be worn to school

boys hair should be short, evenly cut – no fade

no baggy pant – pants must be worn on waist – not hips

shirts must be worn tucked in pants

students who report to school without uniform will be sent home

students are not allowed to wear make-up – including nail polish

nails must be cut short

students are not allowed cell phones in school. If it is seen or heard – it will be confiscated. Parents are required to come in and sign it out to get it back.

parents are required to observe the Islamic Dress Code when visiting Al-Ihsan Academy. Sisters must wear the Hijab
As with other Islamic Mosques/schools in America, you can see Al-Ihsan is about bringing Islam into America, and not about teaching Muslims to assimilate. Another similarity the school has to other Islamic Mosques/schools here, is that they are looking for money to expand. A slide show of their expansion can be viewed HERE.
The bottom line is that Muslims have made our freedoms a tool of Islam, and if their immigration into America is not stopped, we will eventually lose this war.