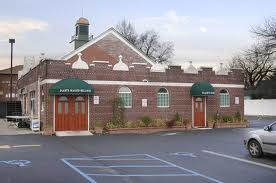 Tonight while doing some online research on Mosques in America, I came across the Jaam'e Masjid Bellmore located at 1425 Newbridge Road (RT 106), Bellmore, NY. Unfortunately their website did not supply much information about the Mosque itself but there were two pages that tell us all we need to know. The first is a video that clearly states that the actions of Mohammad are to be followed for all times, as he is the best role model.
For those new to the subject the Koran states this as well.
Koran verse 033.021
YUSUFALI: Ye have indeed in the Messenger of Allah a beautiful pattern (of conduct) for any one whose hope is in Allah and the Final Day, and who engages much in the Praise of Allah.
The second page of interest was one that promoted the ahadith.( Words and deeds of Mohammad) So using the ahadith we will see what kind of example Mohammad actually was.
Al-Bukhari, Al-Adab al-Mufrad 1103—Abu Hurayra reported that the Prophet, may Allah bless him and grant him peace, said, "Do not give the People of the Book the greeting first. Force them to the narrowest part of the road."
Bukhari Hadith Volume 1, Book 2, Number 25:
Narrated Ibn 'Umar:

Allah's Apostle said: "I have been ordered (by Allah) to fight against the people until they testify that none has the right to be worshipped but Allah and that Muhammad is Allah's Apostle, and offer the prayers perfectly and give the obligatory charity, so if they perform that, then they save their lives and property from me except for Islamic laws and then their reckoning (accounts) will be done by Allah."
Muslim Hadith Book 019, Number 4366:
It has been narrated by 'Umar b. al-Khattib that he heard the Messenger of Allah (may peace be upon him) say: I will expel the Jews and Christians from the Arabian Peninsula and will not leave any but Muslim.
Even on his deathbed Mohammad hated the Jews and Christians.
Bukhari Hadith Volume 1, Book 8, Number 427:
Narrated 'Aisha and 'Abdullah bin 'Abbas:

When the last moment of the life of Allah's Apostle came he started putting his 'Khamisa' on his face and when he felt hot and short of breath he took it off his face and said, "May Allah curse the Jews and Christians for they built the places of worship at the graves of their Prophets." The Prophet was warning (Muslims) of what those had done.
Get the message?