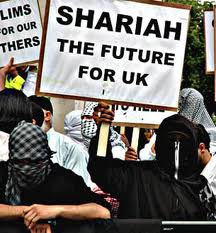 I think it is safe to say that most of the readers here know that I am against Muslim immigration. I am against it because Muslims have turned our freedoms into a tool of Islam, and our slowly changing the country to suit Islam. If we do not end their immigration it is just a matter of time until we lose this war, because they will never stop pushing. Today I am posting a video that shows the English Defence League's (EDL) Tommy Robinson, driving through a Muslim area in the UK. Watch the "red carpet" treatment our infidel friend receives….
WARNING: GRAPHIC LANGUAGE (Video from 2011)

What you saw is the future of the West if Muslim immigration is not stopped. Unfortunately the call to end it is not yet loud enough, and major organizations like ACT! actually support Muslim immigration. Where do you stand?