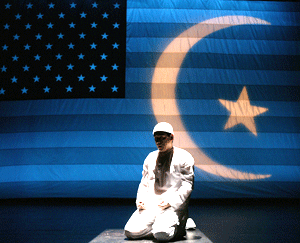 Muslims across the West are hellbent on turning Western Civilization into an Islamic civilization, and they have many weapons in their Islamic arsenal. But what a lot of people do not understand is that many of them are non-violent weapons. Weaponry that is slowly destroying the West from the inside. Some examples of this are the following:
1. The IslamoCON in which Muslims lie about their religion being no threat to non-Muslims. The main targets of this con are Christians and Jews at interfaith meetings, government officials, the media and our universities.
2. Muslim immigration in which they congregate into neighborhoods, and slowly change them to suit Islam.
3. Assembling to fight the anti-Sharia legislation that is being introduced across the country.
4. Using the free market against us to change non-Islamic countries to suit Islam.
Today we will take a look at how Muslims are making a huge Sharia push through our free market.
2011 Conference Overview
"Multiculturalism in the American Muslim Consumer Market"

Meeting Date: October 29Th, 2011
Meeting Location: Hyatt Regency New Brunswick NJ (732) 873-1234

A Brief About American Muslim Consumer
The American Muslim Consumer Conference (AMCC) provides the only platform for industry professionals to examine this potent market sector, and explore its rich potential. The objective of AMCC is to "Understand and Address the needs of American Muslim Consumers and promote companies/entrepreneurs who are developing products for this market".

It is clear that this market is growing and maturing. The consumer preferences of the world's nearly 1.5 billion Muslims are faith-based and the concept of Shariah-compliance as a marketing strategy has started to take root in the global and national marketplaces.

JWT's 2007 study of 'one of America's biggest hidden niche markets' revealed that the American Muslim consumers represent "a neglected market with huge potential for brands that are willing to connect with them."

The report, based on face-to-face and telephone interviews, uncovered various important points about American Muslims attitudes to brands:

70% felt that brands play an important role in their purchasing decisions, compared to 55% for the average American

59% say they make a point of knowing which brands are popular, compared to a 42% average

55% felt that brands make 'life more interesting' compared to a 43% average.

71% said they rarely see anyone of their own faith or ethnicity in advertising

73% said they could not think of one mainstream brand that showed a Muslim in its advertising.

77% rated price as important, as against 91% of the general public, making their brand choice less dependent on price/value.
Let's take a look at some of the traitors to Western Civilization who will be speaking at the conference.
Layla Mandi
Founder & CEO, OnePure

Canadian born spokeswoman and dynamic entrepreneur Layla Mandi, founder and CEO of OnePure, is a renowned pioneer of the growing Halal beauty industry. OnePure first came to market as a travel collection aboard Saudi Arabian airlines in December of 2009 and has since expanded to a range of 13 retail products that are available to consumers today, including at the prestigious French department store Galeries Lafayette. Ms. Layla has succeed in creating and sustaining an international buzz surrounding OnePure including interviews with L'Official, Marie Claire, Dubai Hot 100, BBC, AlJazeera, GeoTV, AFP, Gulf Economist, The National, Khaleej Times to name a few. Ms. Mandi has participated in a number of World Halal events – speaking on branding and marketing to the Muslim consumer and on the global opportunities in the halal personal care sector at Beauty World Middle East, the World Halal Forum in Malaysia, The Halal expo in Moscow, the Global Halal Congress in Pakistan and the Global Islamic Branding & Marketing Forum at the Saïd Business School, University of Oxford, England.

Peter Gould
Designer, Peter-Gould.com

His acclaimed work has reached many international audiences through design projects and art exhibitions.

Peter embraced Islam in 2002 while studying Design at the University of Technology, Sydney. After graduating with honors he founded a design studio commissioned by clients such as Sony, Colgate, Vodafone & McAfee. He began travelling and photographing the Muslim world, being inspired by cities like Fes, Damascus & Mecca, resulting in a unique cultural fusion of styles reactive to a world of misunderstanding.

He leads a successful commercial design studio serving clients internationally including Yusuf Islam (Cat Stevens), Sami Yusuf, Zaytuna College and many leading multinational organizations. Peter has also designed his own clothing label, children's books and is regularly invited to exhibit his contemporary Islamic artwork at events across the globe.

Jane Carten
Director & President, Saturna Capital

Jane Carten, Director and President, joined Saturna Capital in June 1997. Ms. Carten graduated from Western Washington University with an MBA and undergraduate degree in Computer Science and Business. As President, Jane oversees Saturna's daily operations and directs Saturna's internal and external information systems, managing the technology and marketing activities. She also directs Saturna's continuing education program and the philanthropic efforts of the firm. Ms. Carten is active in the Bellingham Bay Rotary and is a current board memeber of the Mount Baker Theatre; she is a former member of the Whatcom Museum Children's Advisory Board. She is a founder and former director of the nonprofit OpenAccess Internet Services and is a Bellingham Sister Cities member and contributor. She enjoys her family, snow-boarding, and wildlife, as well as international travel and fine and theatre arts.
As I said, it's a free market jihad!
Layla can be reached HERE.
Peter can be reached HERE.
Jane can be reached HERE.