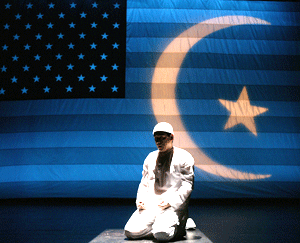 As if this past Sunday's "Today, I am a Muslim Too" rally were not bad enough, Islamic loving non-Muslims are now taking their show on the road to Washington. In a protest against Peter King's Islamic hearings.
National Faith Leaders to Protest Anti-Muslim Hearings (Sponsored by the Islamic Society of North America (ISNA)

Senior national religious leaders of several faiths including Jews, Christians and Muslims will discuss their opposition to Rep. Peter King's congressional hearings on the radicalization of American Muslims
Obviously they don't want King digging too deep. I cannot imagine why…
Following the House Committee on Homeland Security's hearing, the religious leaders will issue a statement voicing their opposition to the congressional inquiries and launch a national interfaith campaign to promote tolerance and to work for an end to anti-Muslim bigotry before meeting with Congressional and Administration officials.
If they were really for tolerance they would apostate from Islam. But then again that might not go over so well.
Bukhari Hadith Volume 9, Book 84, Number 57:
Narrated 'Ikrima:
Some Zanadiqa (atheists) were brought to 'Ali and he burnt them. The news of this event, reached Ibn 'Abbas who said, "If I had been in his place, I would not have burnt them, as Allah's Apostle forbade it, saying, 'Do not punish anybody with Allah's punishment (fire).' I would have killed them according to the statement of Allah's Apostle, 'Whoever changed his Islamic religion, then kill him.'"
The gathering of faith leaders will take place at 1 p.m. in Cannon House Office Building Room 234. Media coverage is welcome. Photo and video opportunities will be available.

The senior national religious leaders expected to be in Washington Thursday represent the same denominations and faith groups that stood in solidarity on September 7 to speak out against the rise in Islamophobia and anti-Muslim bigotry leading up to the anniversary of the September 11 attacks and the planned burning of the Koran in Florida.
I get it. Islam is really not a threat, it is all a figment of our imagination. Must be some sort of mass hypnosis.
Following a September emergency meeting of this group convened by the Islamic Society of North America, the faith leaders pledged that the religious community across the country would work to end anti-Muslim bigotry. As a result, the religious leaders are launching a national interfaith campaign to promote tolerance and to work for an end to anti-Muslim bigotry.
Let me make this clear. Not wanting to be dominated by Shariah Law, does not make one a bigot. Your word games do not fly here, and the voices against Islam will continue to rise. This is America, not Saudi Arabia!
This campaign, which will be officially unveiled Thursday, is called "Shoulder-to-Shoulder: Standing with American Muslims; Upholding American Values."

American "values" such as stoning.

Bukhari Hadith Volume 9, Book 92, Number 432:
Narrated Ibn 'Umar:

The Jews brought a man and a woman who had committed illegal sexual intercourse, to the Prophet and the Prophet ordered them to be stoned to death, and they were stoned to death near the mosque where the biers used to be placed.

WHO:
Senior national faith leaders who will speak:
Rev. Dr. Michael Kinnamon, General Secretary, National Council of Churches;
Rev. Richard Cizik, President, The New Evangelical Partnership for the Common Good;
Fr. James Massa, Executive Director of Ecumenical and Interreligious Affairs, United States Conference of Catholic Bishops;
Rabbi Marc Schneier, President, The Foundation for Ethnic Understanding;
Imam Mohamed Hagmagid Ali, President, Islamic Society of North America;
Rabbi Scheier prouldly carried the flag of Islam this past Sunday. Once again he is turning his back on his own people, including his family. What a guy.
Other senior religious leaders include: Rev. Richard Killmer, National Religious Campaign Against Torture; Rabbi Jack Moline, The Rabbinical Assembly and Interfaith Alliance; Dr. James Zogby, Arab American Institute; Mr. Safaa Zarzour, Islamic Society of North America; Dr. Sayyid M. Syeed, Islamic Society of North America; Rev. Dr. Ken Brooker Langston, Christian Church (Disciples of Christ); Dr. Michael Trice, Evangelical Lutheran Church in America; Rabbi Charles Feinberg, Rabbis for Human Rights-North America; Mark J. Pelavin, Union for Reform Judaism; Jessica Barba Brown, Faith in Public Life; Lisa Daughtry-Weiss, Sojourners; and Michael Neuroth, United Church of Christ.
As you can see the list of non-Muslims who are not willing to stand up for Western Civilization is seemingly endless. I would greatly appreciate it if you took the time to email some of them this article. If they show up I will gladly debate them on Islam. Thank you.