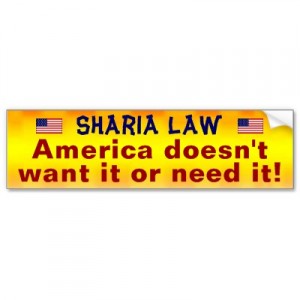 Oklahoma lawmakers have seen the light, and are looking to follow in the footsteps of Louisiana and ban Sharia Law. This is a great step in our war with Islam. The reason is that, not only does it protect us from Islam, it will also expose the pro-Sharia Muslims. Personally I would like to take it one step further though. After the law is passed, I would arrest and deport if possible, any Muslim that calls for Sharia Law. All Sharia loving Muslims are to be looked upon as enemies of the state, just like Nazis were.
Here is a little preview of how Sharia loving Muslims, will treat us infidels.
Sharia law, courts likely on 2010 ballot
Mark Schlachtenhaufen
The Edmond Sun

EDMOND — State lawmakers say it's a pre-emptive strike against Sharia law, needed to prevent here what has happened in the United Kingdom.

An Islamic leader says it's another example of a rising tide of anti-Islamic bigotry in America.

State Question 755, which likely will be on the ballot in November, would make in-state courts rely on federal and state laws when deciding cases and forbid courts from using international law or Sharia law when making rulings.

The proposal, which has an Edmond connection, would amend Article 7, Section 1 of the Oklahoma Constitution, and stems from House Joint Resolution 1056, dubbed the "Save Our State" amendment, passed during the just-finished legislative session.

State Rep. Lewis Moore, R-Edmond, a co-author of HJR 1056, said he wanted to express his support very early for the legislation, which is needed because of the "onslaught" coming Oklahoma's way.

"I don't think we should accept or encourage Sharia law in any way, shape or form," Moore said.

State Rep. Rex Duncan, R-Sand Springs, primary author of HJR 1056, said Oklahoma is the first state to pass such legislation and he hopes other states will follow.

Duncan, an attorney who chairs the House Judiciary Committee, said the amendment is needed because judges in other states and on the federal bench have increasingly cited international law in their decisions. He said he feels that action is inappropriate in a sovereign state.

Duncan said Sharia law is entrenched in the United Kingdom.

"It is a cancer upon the survivability of the UK," Duncan said. "SQ 755 will constitute a pre-emptive strike against Sharia law coming to Oklahoma."

State Sen. Anthony Sykes, R-Moore, a co-author of HJR 1056, said American courts are being more frequently challenged that international law should trump U.S. law.

"Sharia law coming to the U.S. is a scary concept," Sykes said. "Hopefully the passage of this constitutional amendment will prevent it in Oklahoma."

Council on American-Islamic Relations spokesman Ibrahim Hooper said he has been working on Muslim civil rights issues for several decades and anti-Islam rhetoric is approaching "Nazi-like" levels.

"This is just the flip side of the anti-Semitic coin," Hooper said.

Hooper said Duncan is voicing a misconception of Sharia, which is based on the Quran, the traditions of Muhammad and interpretation of scripture, that it is comparable to laws related to other religions.

Regarding unintended consequences, Hooper wondered aloud what the amendment would mean for Muslims who want to wear a scarf in a driver's license photo, for Muslims who want to pray in the workplace, if Muslims attending Oklahoma's public schools will be forced to eat pork.

Saad Mohammed, director of Islamic information for the Islamic Society of Greater Oklahoma City, said 80 percent of the U.S. Constitution is compatible with Sharia, which leads to justice and equality for all. Mohammed said extremists have distorted Sharia.

"Sharia is more of a protection than something used to oppress," Mohammed said.

Razi Hashmi, of Edmond, executive director of CAIR-Oklahoma, said the Sharia law proposal is a distraction from more urgent issues facing the state such as the economy, job creation and immigration.

Hashmi said the proposal is a way of promoting division and bigotry instead of promoting unity and understanding of other faiths and cultures.
Sharia is not compatible with our Constitution.