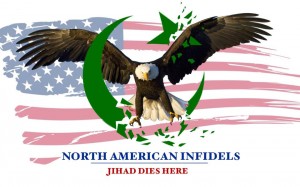 As I have stated over and over, Muslims have successfully turned our freedoms into tools of Islam. Their three main targets being the educational system, the media, and our politicians.
One of the organizations on the forefront of misleading America on Islam is the Muslim Public Affairs Council., (MPAC), and they have just launched a social media attack on the naïve and trusting non-Muslims they prey on!
MPAC Launches #ISpeakOutBecause Social Media Campaign

(Washington, DC – 8/7/14) –Today, the Muslim Public Affairs Council (MPAC) launched a social media campaign called "#ISpeakOutBecause" to provide a platform for people of conscience to speak out for human rights. Speaking out in response to escalating violence and extremism taking place in Palestine, Iraq, Syria, Myanmar, Nigeria and beyond is a critical step to spreading awareness and creating change.

SEE: "#ISpeakOutBecause" Official Website  (MPAC)
ALSO SEE: "#ISpeakOutBecause" Facebook, Twitter, and Instagram Pages

In recent weeks, many public figures have spoken out against the ongoing injustices in Gaza, only to face sharp criticism and pressure to retract their statements. Intimidation has led many people to practice self-censorship on topics deemed taboo out of fear of ramifications. When we are intimidated into censoring ourselves, our right to free speech is threatened.
Of course their campaign is going to be a complete whitewashing of Islam, while attempting to turn the tables on Israel for defending herself from the genocidal tendencies of Hamas and other jihadists.
In order to win the war with Islam we must win the information war. We must negate the social media campaigns that mislead the public on Islam. So in an effort to do that North American Infidels (NAI) is proudly locking arms with our friends at Bare Naked Islam (BNI), and Infidel Task Force (ITF).
The mission is counter the MPAC campaign, and we need your help! We ask that you please join us and add the #ISpeakOutBecause hash tag whenever posting about Israel defending herself, Islam, or women's rights, etc. (Facebook now uses hash tags as well.) You can add to it by contacting news agencies, media personalities, or even MPAC itself. Let's them know the truth team is alive and kicking!
——————————————————————————————-
Here is are some examples:
#ISpeakOutBecause Mohammad said he was going to drive all Jews and Christians out of the Arabian Peninsula. #Israel #Gaza
#ISpeakOutBecause Because Islam allows lashings and child marriages. #HumanRights #Womensrights
Please be creative, not threatening!
Thanks for joining us!