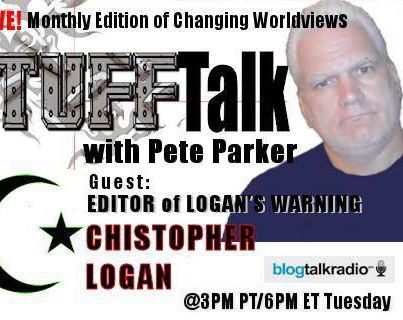 Hello mighty infidels! Right before the new year I pledged on Facebook that I was going to pick up my game, and take it to the radio to reach a broader audience. Surprisingly, just days later I received a radio invite from TUFFTalk radio's Pete Parker, (by Changing Worldviews).
The main reason that I am planning on doing more radio shows is because what is being done by our side in the war with Islam, is not even close to working. One of my goals of taking it to the radio is to change the narrative from the fictional fantasy land that Islam itself is not the problem, and just some form of "Islamism" is, to inspiring non-Muslims to lay the blame exactly where it belongs. On Islam itself! A second major goal of mine is to bring the narrative from just talking about the problem, to actually providing answers to it. Because what is being done now, is not even close to working. The rules must change!
Straight shooter Pete Parker's show is the perfect place to lay the foundation for the truth and answer campaign! The show begins at 6 PM EST, and I will be coming on at approximately 6:20. The call in number is (424) 222-5360, and the show can be listened to by clicking HERE.
Joining Pete Parker, former Navy Seabee and Professional Strength Athlete, for this month's "TUFFTalk" edition of Changing Worldviews, is Christopher Logan editor of "Logan's Warning" which is an on-line publication that educates and alerts non-Muslims to the threat Islam poses to a free and open society. Don't miss this eye-opening show!
BTW, I will gladly debate any Muslim on the show. Do any of you have the guts to call in, or will you pull a Muslim Houdini on me?