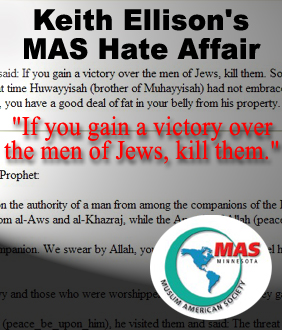 Two of North Americas well known Islamic organizations, the Muslim American Society, and the Islamic Circle of North America are joining together and holding a five-day long convention. One of the top subjects will be Sharia Law. The convention is going to take place at the Hyatt Regency O'Hare 9300 Bryn Mawr Avenue Rosemont, IL. Phone: 402-592-6464 / 888-421-1442. To make matters worse, Congressman Keith Ellison of Minnesota's 5th District will be a guest speaker at the event. Now one has to wonder, where does his loyalty really lay? With the US Constitution or is he using the Constitution to advance Islam?
Now lets start with some background information on the two organizations.
The Muslim American Society (MAS) is a charitable, religious, social, cultural, and educational, not-for-profit organization. It is a pioneering Islamic organization, an Islamic revival, and reform movement that uplifts the individual, family, and society

Objectives:

To present the message of Islam to Muslims and non-Muslims, and promote understanding between them.

To encourage the participation of Muslims in building a virtuous and moral society,

To offer a viable Islamic alternative to many of our society's prevailing problems.
To promote family values in accordance with Islamic teaching.

To promote the human values that Islam emphasizes: brotherhood, equality, justice, mercy, compassion, and peace.

To foster unity among Muslims and Muslim organizations and encourage cooperation and coordination amongst them.
This all may sound nice to those who are new to the subject. But the part about offering a "viable Islamic alternative", is just a way to get to get more of Islam into our society. Islam also allows married men to have sex slaves as captives. Those are not "family values" that America needs. The MAS also does not tell us that is Islam discriminates against apostates, homosexuals, non-Muslims, and women.
Islamic Circle of North America (ICNA)

Islamic Circle of North America is a leading grass roots organization which seeks to obtain the pleasure of Allah (SWT) through working for the establishment of Islam in all spheres of life. ICNA has many projects, programs, and activities which are designed to help in the process of molding the individual and reforming society at large.

Objectives:

To invite mankind to submit to the Creator by using all means of communications.

To motivate Muslims to perform their duty of being witnesses unto mankind by their words and deeds.

To organize those who agree to work for this cause in the discipline of ICNA.

To offer educational and training opportunities to increase Islamic knowledge, to enhance character, and to develop skills for all those who are associated with ICNA.

To oppose immorality and oppression in all forms, and support efforts for civil liberties and socio-economic justice in the society.

To strengthen the bond of humanity by serving all those in need anywhere in the world, with -special focus on our neighborhood across North America.

To cooperate with other organizations for the implementation of this program and unity in the ummah.
The reforming of society they are speaking about, is turning North America into an Islamic ruled North America. They also state they are against oppression, that is just a con in an attempt to get non-Muslims to back off on Islam. Because if they were truly against oppression, they would take a stand against Sharia Law. Instead they are promoting it.
The topic of the convention are the following.
Topics of interest include:

Spirituality
Family and Parenting
Social Issues
Shariah Knowledge and Jurisprudence
Intellectual, Dawa
Workshops
Activism, Volunteerism and more

Age-appropriate programs for adults, youth, young youth and children, Babysitting will also be available

Meet and interact with some of the best speakers from across the U.S. and internationally
The highlighted one says it all about this conference.
There is also a Youth Conference taking place.
Youth Conference

Enjoy the benefits of talking to the prominent and celebrated speakers of the conference!

Various discussions on topics such as "peer-pressure" and generational gaps!

Learn how to transfer your Islamic knowledge into action!

Outdoor adventures included in the program!
Some other topics they will discussing are the following.
Recent developments and issues relating to Al Quds, Gaza, and the Turkish role in aid for Palestine

Unifying and helping to strengthen the work for Palestine in the United States

Festival for Palestine on the last night of the conference entertainment

Facilitating the Midwest SJP conference plus several seminars and workshops specific to SJP's
In conclusion, Muslims are once against plotting against us from within. Which means what we are doing is not working, and it is time to bring new options to the table. One being the discussion of ending all Muslim immigration. If we don't change the battle plans, we will surely lose the war.
One more thing guys, I urge all readers to contact the office of Congressman Ellison and politely but passionately voice your displeasure with him. His contact information can be found HERE.