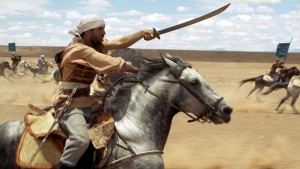 In the last post here we left off with "Jihadifanclub" stating that him and his Sharia loving brothers were going to overthrow the US Government. Since then I asked him how he was going to do it, and once again Jihadi showed where his loyalty lies.
First we will invite you to Islam or you let Islam rule without any oppression. Then the last alternative is to fight your army. Like I said before bringing family values to a society is not oppression.

jihadifanclub in reply to LogansWarning

(Click on images to enlarge)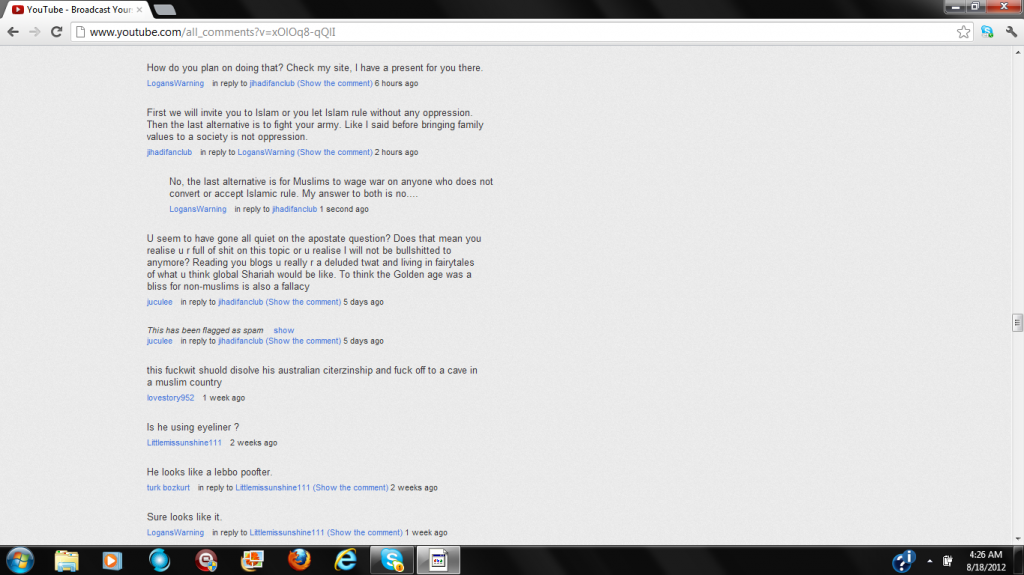 As you will see the want to be jihadist went old school with his response:
Chapter 1: REGARDING PERMISSION TO MAKE A RAID, WITHOUT AN ULTIMATUM, UPON THE DISBELIEVERS WHO HAVE ALREADY BEEN INVITED TO ACCEPT ISLAM
Muslim Hadith Book 019, Number 4292:
Ibn 'Aun reported: I wrote to Nafi' inquiring from him whether it was necessary to extend (to the disbelievers) an invitation to accept (Islam) before m". ing them in fight. He wrote (in reply) to me that it was necessary in the early days of Islam. The Messenger of Allah (may peace be upon him) made a raid upon Banu Mustaliq while they were unaware and their cattle were having a drink at the water. He killed those who fought and imprisoned others. On that very day, he captured Juwairiya bint al-Harith. Nafi' said that this tradition was related to him by Abdullah b. Umar who (himself) was among the raiding troops.
I'm sorry, I probably shouldn't complain that some Muslim wants to me to convert, force Islamic rule on me, or kill me. To do so would be "Islamophobia".
I also probably should not say a word about this other comment I received today. Because anything is better than getting called an "Islamophobe"….
u must be a jew having ur way playing around with words,but u forgot that u r speaking to a muslim,not to a dumb christian,the FACT of the matter NOW A DAY that EVRY ONE AND ANYONE is waging wars agianst muslims,not the other way around,from the jews,the chrsitians,the buthist,the athiests etc whome u may think have nothing in common with each other and that in it self shows that islam stand alone as the truth,and we will rule u ALL make u pay jizyah subdud.

elnasser41 in reply to LogansWarning
Don't worry guys, this is all a figment of our imagination….