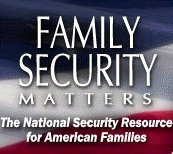 Hello friends, today we here at Logan's Warning received some more good news. Family Security Matters the highly respected conservative website which also features Maj. Gen. Paul Vallely, US Army (Ret), Michelle Malkin, Melanie Phillips, and Ralph Peters has added me as a contributing editor. We are in for a long fight, but the word is finally spreading. Thank you for your support!
About Us
Our mission is to inform all Americans, men and women, about the issues surrounding national security; to address their fears about safety and security on a personal, family, community, national and international level; to highlight the connection between individual safety and a strong national defense; to increase civic participation and political responsibility; and to empower all Americans to become proactive defenders of our national security and community safety.
The first article of mine they have published is "Islamists March to Washington".