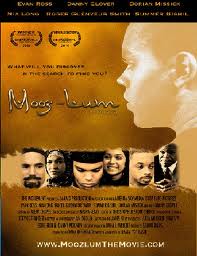 Earlier today, I was sent the following email from Hadiatu Dumbuya, former Butler University female soccer star and now CEO of HDC, a Michigan-based consulting firm. In an apparent attempt to get me to back off on Islam she has notified me of the US premiere of "MOOZ-lum".
MOOZLUM ~IN Theaters 2/11/2011~

MOOZ-LUM" FILM STARRING NIA LONG & EVAN ROSS
GETS FEB. '11 RELEASE DATE

Global demand and grassroots support help indie film land deal with AMC Theatres® & Eventful

NEW YORK, NY (December 15, 2010) – After sold-out advance screenings, online momentum, and heightened global anticipation, Mooz-lum, the critically-acclaimed film about a Muslim-American youth's struggle with his faith and identity, will finally be released in U.S. theaters on February 11, 2011, Peace Films announced today.

Starring Nia Long (Are We There Yet, Love Jones), Evan Ross (ATL, Pride), Roger Guenveur Smith (American Gangster, Do The Right Thing) and Danny Glover (Dreamgirls,The Color Purple), Mooz-lum generated a groundswell of international support this year from thousands of fans in over 40 countries. Within
weeks of the film's trailer being posted on YouTube, it garnered nearly 200,000 views and over 77,000 people have "Liked" Mooz-lum on Facebook. Additionally, at the film's New York premiere at the Urbanworld Film Festival in September, nearly 1,000 guests showed up at the 200-seat theater to view the film.

"From writing the script to shooting the film with such great actors to seeing the positive response at festivals and online, this has been an incredible journey," says Mooz-lum writer/director Qasim Basir. "I'm extremely optimistic that the release of our film will have the power to give a voice to some and enlighten many others."

"We are very excited that AMC and Eventful are partnering with us to bring this very important film to an audience that has been waiting to see it," adds producer Dana Offenbach.

Mooz-lum won "Best Narrative Feature" at Urbanworld 2010 and was an official selection at both the Chicago International Film Festival and the Cairo International Film Festival this year.

The film has been featured on CNN, NPR, Reuters, New York Times, BBC World News, ABCNews.com, "Good Day NY" and WPIX/CW 11.
No matter how much Islam becomes entrenched in America, there will always be non-Muslims who will ignore reality and support Islam. These people are exactly who Muslims target to help advance Islam, and that is precisely why Screenwriter/Director Qasim Basir has made this film.
The tools of Islam that are used in this film are the following:
Written and directed by Qasim Basir, Mooz-lum is one of the first-ever American feature films depicting the life of a young Muslim-American. The all-star cast includes: Danny Glover (Dreamgirls, The Color Purple), Nia Long (Are We There Yet, Love Jones), Roger Guenveur Smith (American Gangster, Do The Right Thing), Summer Bishil (The Last Airbender, Towelhead) and Evan Ross (ATL, Pride).
As with every other waking day, the Islamic con is in full force! Today, it comes straight from the movie's Facebook page. Here's what the Info section of the movie's fan page claims:
In Theaters: 2.11.2011 (February 11, 2011) in the following cities:
Atlanta
Chicago
Dallas
DC
Detroit
Houston
Los Angeles
New York
Philly
San Francisco

Follow this link to see the details for each city:
http://www.facebook.com/note.php?note_id=10150101654622305

We're making a movie that we hope will offer a different perspective on Muslims/Islam than what is normally portrayed. As a result, opening the minds & hearts of millions.

With your help we will create a grass roots marketing campaign that will ensure the success of this film before it's release. This page is yours as much as it is ours. We want all of our supporters to get involved and make this a vibrant, interactive and fun journey to the finish line… And when the movie does come out, it will be a win for us all.

The crew behind this film consists of many different religions, cultures & nationalities. We're not trying to push anything on anyone… We just have a story to tell.
Like I said, Islamic con… of course they are trying to push something on people. They are trying to force the acceptance of Islam on non-Muslims. Why is this so hard for some people to see?
Hadiatu, your attempt to get me to back off on Islam has failed.