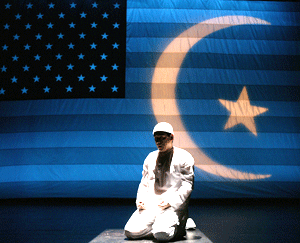 Last month I recorded the Islamic call to pray (adhan) being broadcast onto the streets from the Masjid At-Taqwa, located in Brooklyn. Yesterday I took it to the streets of Manhattan, and headed over to the Masjid ar-Rahman, located at 15 W29th St, for the 4:42 call to prayer. Muslims there took the Islamic encroachment one step further.
New York, NY, Usa Prayer Times
Prayer Schedule January / 2011
Date Day Fajr Sunrise Dhuhr Asr Maghrib Isha
1 Sat 5:58 7:20 12:00 2:21 4:39 6:01
2 Sun 5:59 7:20 12:00 2:22 4:40 6:02
3 Mon 5:59 7:20 12:01 2:23 4:41 6:03
4 Tue 5:59 7:20 12:01 2:24 4:42 6:04
5 Wed 5:59 7:20 12:02 2:25 4:43 6:05
6 Thu 5:59 7:20 12:02 2:26 4:44 6:06
At that time nothing happened, but several minutes later….
After over two minutes of recording, I decided to shut the camera off and take a walk to the corner. Where I saw the following.
Yes, Christians should not be happy about the encroachment of Islam taking place up the block. After taking these pictures, I figured I would walk back up past the Mosque, and play tourist by filming the surrounding area. But what do we still hear in the background?
Unfortunately they were not done, and I decided to take a seat on the staircase next to the Mosque.
Before leaving, I figured I would take a look at what was happening inside the Mosque. I wonder how many of them condemn Sharia Law….
What will the five boroughs be like if and when, all Mosques broadcast their prayers into the streets? Will it still feel like America, as we know it?