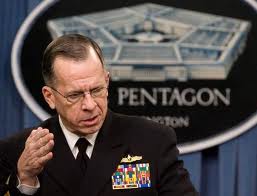 Yesterday Admiral Mike Mullen put up a post about Iraq on his
Facebook page.
I replied with a few comments about the situation, and as expected he
did not respond.
The catering and covering for Islam
by top US Military officials continues….
Admiral Mike Mullen, Chairman of the Joint Chiefs of Staff
Mullen Notes Iraq's Progress from 'Desperate' Situation
www.jcs.mil

BAGHDAD, Sept. 1, 2010 –On his way here for the change of command for U.S. forces and to see the U.S. combat mission officially transfer to the civilian-led Operation New Dawn in ceremonies here today, the chairman of the Joint Chiefs of Staff paused to take stock of the progress he's seen in Iraq s…
Yesterday at 12:37pm · Comment · Like · Share · Report
15 people like this.

Christopher Logan: Admiral….
the Christians there have it worse than ever. Why does the Pentagon continue to cover for Islam, when Islam itself is the problem?
Yesterday at 12:42pm · Like · 2 people ·

Christopher Logan: Nation building has not made us safer, as Islam is spreading across the West. In the end it makes little sense to fight them over there, and allow them to takeover here.
Yesterday at 12:44pm · Like · 1 person ·
If he ever responds I will let you guys know.