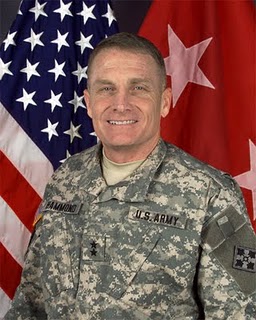 Back in June of 2009 Major General Hammond of Fort Carson Colorado, had stated that Islam is a beautiful religion. The Major General has obviously done little
research on Islam,
so tonight I sent the following email to the 
Commanding General Hotline at Fort Carson.
If I hear anything back, I will let you guys know.
Hello,
In the past Major General Hammond stated that Islam is a beautiful religion. But the truth is that Islam is a religion of war, that allows the extortion of Christians and Jews, lying, and rape. I was wondering where he got his information from, and I also wanted to know why he is promoting religion at all? I would appreciate it if the General took the time, and visited my site to back up his statement.

US Maj. Gen. Jeffery Hammond: Islam is a Beautiful Religion

He is spreading false information, and all that does is help our enemies. Maybe after he gets the facts, he will stop promoting the religion of the enemy. Yes, Islam itself is the problem.

Thank you,

Christopher Logan

Here is the response I received today.
Sir,
Please do some research, & you will find out that MG Hammond has not
been part of this post, ever, & the 4th Infantry Division for well over
a year.
Very Respectfully,
SSG Chavez, Joseph
SGS / Commanding General's Hotline NCOIC
4th Infantry Division
Fort Carson, CO
Desk: 719-526-2677
W. Cell: 719-362-6594
In return I sent this back.

SSG Chavez, Joseph,
I would have no way of knowing that, and him not being there anymore does not change the fact that he was spreading false and damaging information about Islam. Would you happen to know of a way to reach him?

Thank you,

Christopher

(Obviously when I say damaging information, I mean damaging to our side.)