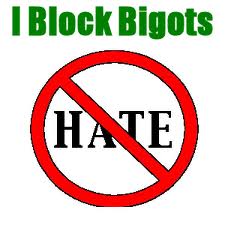 In my last article on ACT! we saw that the leaders do not like to be criticized, over their weak stance of promoting so called "moderate Muslim" Zuhdi Jasser.  Now Brigitte "the Queen of False Hope" Gabriel, has taken her defense of Jasser to a whole new level. A level that clearly has the public turning on her! Last night Dawn Ellen an anti-Sharia sister of mine on Facebook, posted information on my wall stating that Gabriel was actually deleting comments criticising ACT! and their support of Jasser. To make matters even worse, Brigitte Gabriel uses Muslim Brotherhood rhetoric against those who question her propping up of non-representative Muslim. Yes, that's right. She called us hateful and dropped the bigot bomb! Wow!
(Click on image 2X to enlarge)

It seems to me that she needs to take a step back from her so called Muslim friends, take a long look in the mirror, and reevaluate her position here. Because they are clearly getting the best of her.
As many here know, I have been speaking out against the "moderate" Muslims are going to save the day line of thinking for years now. But as you will see ACT! supporters are now questioning Brigitte, and she just cannot handle it! The reason is that she knows full well what Jasser is not pushing is not Islam. She seems to be running on emotions over facts these days.
Another ACT! supporter is not happy with the censorship, and threats of more deletions.
(Click on image 2X to enlarge)

Next we see that Gabriel does not want to talk about ACT!'s support of Jasser in public. She is requesting that people email her on the issue. That is because she has no real answers, and hopes the emails will not go public.
(Click on image 2X to enlarge)

Yes! She deleted me as fast as a speeding bullet!
Finally Brigitte parrots the line Guy Rodgers used on me, about ACT! taking a backseat to no one.
(Click on image 2X to enlarge)

While ACT! has plenty of great foot soldiers, between promoting Jasser and this sad display, the so called leaders of ACT! need to take a backseat. Because they just do not have what it takes to win the war with Islam. I for one will not follow Brigitte Gabriel, Guy Rodgers, and Kelly Cook off the cliff….it is time past America looks for new solutions. Long term ones, like ending Muslim immigration.