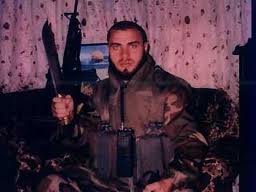 Over the years the Logan's Warning infidel team has been "befriended" by numerous Muslims and Islamic organizations. Some of those most prominent ones are the Cancer on American Islamic Relations (CAIR Chicago), Hizbut Tahrir Indonesia, the Iranian Shia media conglomerate, AhlulBayt News Agency (ABNA), and NY's Revolution Muslim.
Revolution Muslim was lead by Jesse Curtis Morton, AKA Younus Abdullah Muhammed. Younus' pure hatred of us infidels, Israel, and America was clearly seen in his videos. Back in August of 2010 he featured one of my articles on his site that mentioned ending Muslim immigration. It was a failed attempt at intimation, and also an obvious message to his readers to what is being said by the team here.
Now Younus hatred of infidels has lead him straight to the slammer!
Creator of Revolution Muslim website, inspiration to US jihadis, pleads guilty

Jesse Curtis Morton, who ran RevolutionMuslim.com, admitted to influencing would-be American militants including 'Jihad Jane' and the Pentagon model-plane bomber.

A New York man pleaded guilty on Thursday to charges that he created and ran militant Muslim websites – including RevolutionMuslim.com – to encourage others to engage in violent actions to defend Islam from perceived attacks in the West.

Jesse Curtis Morton, who is also known as Younus Abdullah Muhammed, entered his plea in federal court in Alexandria, Va.

As part of the plea agreement, Mr. Morton admitted that he used his websites to solicit the murder of those who had allegedly disparaged the Prophet Mohammed. He also admitted that he made threatening communications and used the Internet to place others in fear.
I guess Younus was not happy with people knowing his hero Mohammad was a pedophile and rapist.
SNIP
The websites also highlighted the actions of perceived enemies of Islam, including cartoonists in Denmark who had lampooned the Prophet Mohammed, a US-based artist who promoted "Everybody Draw Mohammed Day," and the writers of South Park for an episode that featured a person in a bear suit who was supposedly the Prophet Mohammed.

After accepting the plea, US District Judge Liam O'Grady set sentencing for May 18. Morton faces up to five years in prison for each of the three counts.
Hey Younus, why did Allah allow this? Why didn't Allah protect you? Why is the Logan's Warning infidel team still free to educate non-Muslims about the threat of Islam? Fool!