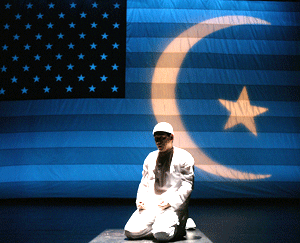 Strolling through the Times Square area the other day, I could not help but notice a man standing and making motions with his arms, while mumbling under his breath. He was another Muslim who turned the streets of NYC into a Mosque. When I spotted him praying I stopped to watch. As he was praying some customers walked up to his food cart, and he stopped to service them. Will Allah be happy about that?! After the customers left, I caught the end of his lazy prayer on film. As he never hit the floor.
Unfortunately he was just doing what Prophet Pervert commanded, with his in your face religion.
Muslim Hadith Book 004, Number 1057: Ibrahim b. Yazid al-Tayml reported:

I used to read the Qur'an with my father in the vestibule (before the door of the mosque). When I recited the ayat (verses) concerning prostration, he prostrated himself. I said to him: Father, do you prostrate yourself in the path? He said: I heard Abu Dharr saying: I asked the Messenger of Allah (may peace be upon him) about the mosque that was first set up on the earth. He said: Masjid Harim. I said: Then which next? He said: The Masjid al-Aqsa. I said: How long is the space of time between the two? He said: Forty years. He (then) further said: The earth is a mosque for you, so wherever you are at the time of prayer, pray there.
This is becoming an all too familiar sight.
Comments
comments