Besides going back to doing my exclusive street reporting, I have also been looking for other ways to legally step things up in the war with Islam. One being attending as many webinars "on this threat" as possible.
So that is exactly what I did this morning.

For those who do not know, I have a history with Daniel Pipes'.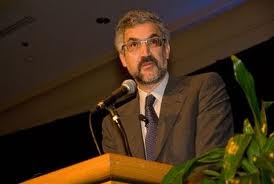 One he does not like to address. While he does some good work, him and his organization do not get to the root of the problem. Which is Islam itself.
Instead Pipes' makes harmful statements such as that he respects Islam. Going as far as taking a stand against Islam being banned in America. Also saying that the problem with "militant Islam" is approximately only 100 years old. The Islamic conquests of Egypt and Persia alone prove him wrong on that claim. To top it off he falls into the Zuhdi Jasser trap of promoting the fantasy that Islam itself can reform. Which is contradictory in itself because why would Islam need to reform if he respect it?
Over the years I have questioned Pipes on his policies via Twitter. His "response" was not to respond. An organization with sound policies should be able to defend them.
So today I decided to join the webinar and politely address my concerns over his policies there.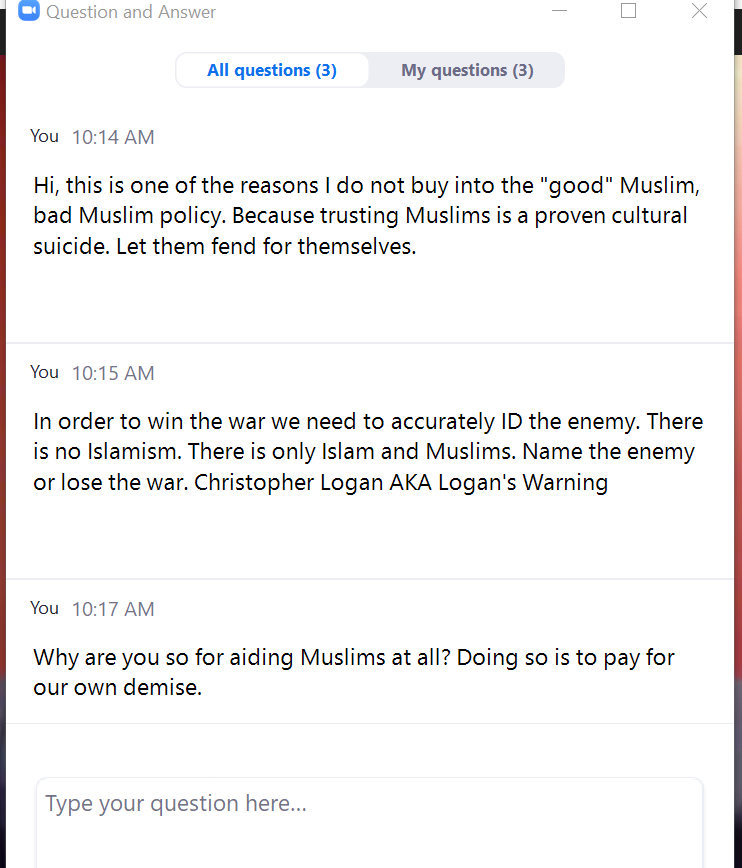 Pipes' greatest deathblow to America is his over decade long "solution" to the threat of what he calls "Islamism", "militant Islam" or "radical Islam". (During the webinar Cliff Smith and Sam Westrop continually used the term "Islamism". Which actually lays cover for Islam itself.)
Calling Islamism the Enemy
by Daniel Pipes
December 1, 2001
President Bush and others were properly careful not to foster or be seen as fostering the idea that Islam—a faith observed by more than one billion people across the world—was our enemy.

by Daniel Pipes
New York Sun
November 23, 2004

There is good news to report: The idea that "militant Islam is the problem, moderate Islam is the solution" is finding greater acceptance over time.

We also see that Pipes does not care that he is misleading America, as he is carrying the same message today!

APRIL 20, 2012 12:00 A.M.

Middle East scholar Daniel Pipes has said, "The problem is radical Islam. The solution is moderate Islam."
When host Stacey McKenna announced that there was only a few minutes left I shot over one more comment.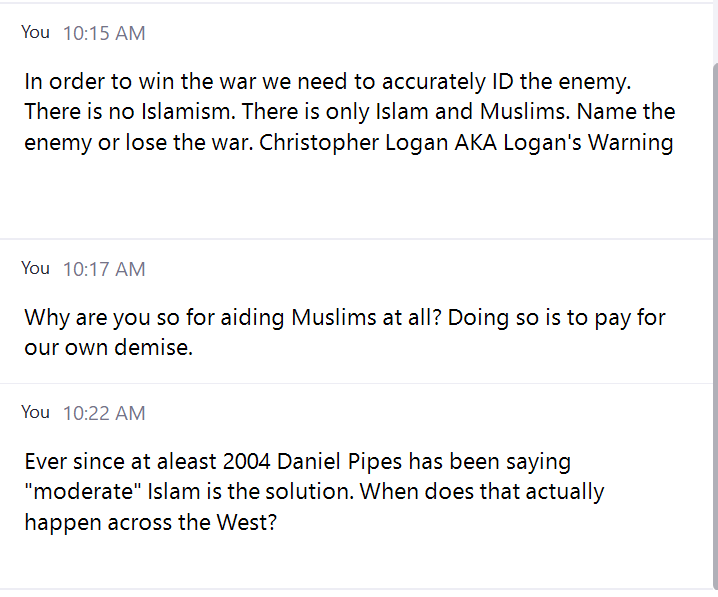 As I said nearly 8 years ago….Daniel Pipes, Taking America Straight to an Islamic Hell.
Please help Logan's Warning continue to expose the truth in the war with Islam by making a onetime donation via PayPal today by clicking below. Or subscribe to become a monthly supporter of just $10 a month or more.