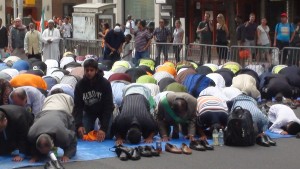 Today we continue with part II coverage of NYC's 26Th annual Muslim Day Parade.
Here comes the second and third waves of the slaves of Allah.
The fourth wave, and another Sharia cop.
They are still coming. Is the waving man in the car the next Mayor of NY? I wouldn't be surprise.
Next, the Islamic parade floats come down Madison Avenue:
Now we get to see the Mohammad promoting float.
According to Koran verse 33:21, the actions of Mohammad the liar, rapist, slave owner, and warmonger, are to be followed for all times.
033.021
YUSUFALI: Ye have indeed in the Messenger of Allah a beautiful pattern (of conduct) for any one whose hope is in Allah and the Final Day, and who engages much in the Praise of Allah.
What a role model….
A fitting end.
After the march down Madison Ave, they gathered on 27Th street to listen to the speech givers of the event. They also decided to recite from the Koran and broadcast it into the streets of NYC.
Islam is clearly at war with us. Did we allow Nazis to assemble like this during WWII? How times have changed. (For the worse)
If you found that video disturbing, you will find the next one even more disturbing. These poor young girls have already been handed over as slaves to Allah.
What a sad day for America.
Islam is an internal disorder to mankind, it must be stopped!
Please support the Logan's Warning team continue to report the news that the mainstream media will not touch. $10 – $20 is not going to kill you, but a knife in my back at one of these events might kill me. (Lets hope that doesn't happen) A donation can be made today on the site via PayPal. Or a check or money order made out to "Christopher Logan" can be sent to:
Christopher Logan
P.O. Box 313336
Jamaica, NY 11431
Thank you for the support!