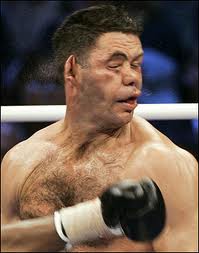 Exactly one month ago, the door of hope was opened when Peter King (R), House Committee on Homeland Security, stated he will hold hearings on the "radicalization" of certain American Muslims.
Now, we learn that the door of hope is quickly being closed, as King's proposed solution to the problem will not stem the tide of "radical thought. This is the main policy that the UK has implemented and it has proven to be a failure in reducing the numbers & activity of "radical" Muslims, leading to more concessions to Islam.
Last night, the Politico published an article entitled Muslim Groups Nervous About King Hearings. The article was written by Ben Smith & Byron Tau. Starting with Peter King.
In a move that will come as a relief to Muslim leaders, King told POLITICO that he's not planning to call as witnesses such Muslim community critics as the Investigative Project on Terrorism's Steve Emerson and Jihad Watch's Robert Spencer, two respected individuals with large followings among Conservatives but who are viewed as antagonists by many Muslims.
The opening bell of the fight has just sounded! King has already had his knees buckled, and he is now dealing from a position of weakness that will be certainly exploited by the Islamic community.
King aims, he said, to call retired law enforcement officials and people with "the real life experience of coming from the Muslim community." Rep. Keith Ellison, the first Muslim to serve in the House and a critic of the hearings, will likely be a minority witness, according to both King and the Minnesota Democrat.
So, King believes that Ellison, who has given speeches at a Sharia college in the Middle East, and a Sharia convention in America is going to be helpful. This is like a boxer having a cut eye in a match, but listening to the evaluation of his opponent's corner man, who will say that the other guy is just fine to continue the match!
SNIP
Possible witnesses, according to King, include Dutch critic of Islam, Ayaan Hirsi Ali and M. Zuhdi Jasser, president and founder of Arizona-based American Islamic Forum for Democracy. Jasser is a sharp critic of leading American Muslim groups, whose agenda he calls "Islamist."
Here we go again with the "Jasser is the answer" fantasy. I would personally like to "thank" Bridgette Gabriel for at least playing a part in King's recipe for disaster. Earlier this month, she led the way, by sending out an email with the title being A Muslim supports Rep. Peter King. When I read her email, I had a feeling that King would start trotting Jasser around as well. Then, last week, she sent out another email stating that Peter King will be the first guest on her new cable TV show. So, she obviously has his ear.
"We have to admit as Muslims that we need a 12-step program," Jasser told POLITICO. "The first step is acceptance."

"If they don't see us leading a charge for reform they're going to see us as part of the problem," he said.
Jasser, why don't you stop ducking my emails and come out of hiding? Then, using supporting verses from the Islamic scriptures, explain your plan to reform Islam. You cannot, that is why you avoid those who ask you tough questions. This is beside the fact that you oppose Geert Wilders, one of the few Western leaders who is actually willing to fight Islam head on. This information can be seen on my anti-Sharia sister's site Atlas Shrugs.
Finally, we see that the authors of the article on POLITICO have not done their research on Islam.
Jasser is a rare Muslim voice welcoming the hearings.
Please provide your evidence via Islamic Law that Jasser is a valid Muslim!
Seriously, EVERYONE needs to face the reality that "moderate" Muslims are NOT coming to the rescue. This line of thinking is detrimental to the country. It is our fight, deal with it! King, do you have it in you?